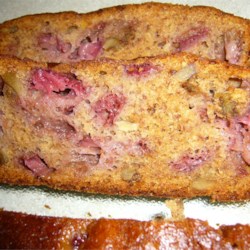 I had another overripe banana I had to use. I still have about 2 c. of that Kashi-Nasti cereal that I've been saving for cooking
those muffins
again... I am trying not to throw out food... like I did today Frosted Mini Wheats crumbs (about 1/2 cup!) at the bottom of the cereal bag today. I didn't even think about it until it was too late and the bag had been thrown out (although still technically retrievable) into the nasty garbage can germ abyss.... I digress.
Anyway, I searched on
Allrecipies.com
again (my favorite recipe/ingredient search website) for banana and found this recipe.
If I hadn't thrown the cereal crumbs I probably could have used them in place of the whole wheat flour and some of the sugar. Oh well.
One thing I like about
Allrecipes.com
is that you can adjust the serving sizes, so since the recipe called for 3 bananas and served 12, I cut it down to a serving of 4. I had to put in a partial egg, but that's not hard. Just scramble it and remove a tablespoon or so.
I left a comment about my changes on the website and I'll post them here as well...
"I had a lone overripe banana to use and a pathetically small rhubarb plant that I wanted to make at least

something

with. Found this recipe and reduced the serving size down to a third of the original (for the lone banana) and doubled the rhubarb (like many did with the strawberry component) and made muffins with it (start with about 20 min for baking time). I don't know if it helped or not but I coated the chopped rhubarb in some of the sugar first to sweeten it a bit while I prepared the rest of the ingredients. Next time I will add a pinch of salt, too, I think."
And here is the original recipe link
--it is very simple with very few ingredients. Enjoy!